Howard B. Wigglebottom Learns About Bullies
Back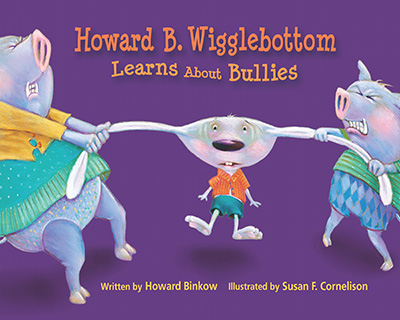 Want to Listen better? Listen to the little voice in your head called intuition.Bullying is wrong. Be brave, be bold a teacher must be told…first and fast.Award-winning educator endorsed
Bullying starts in kindergarten and gets intense in middle school. Empower K-2 students with the right thing to do about bullying before bad habits form. PARENTS CAN HELP by giving the same answers as teachers to three questions...What is bullying? The right thing to do when bullied or see someone else being bullied? What to do if the teacher is told and bullying continues? More children will do the right thing, if more understand the right thing to do… and the incidents of bullying will decrease. This website has several free resources to help.

The Howard B. Wigglebottom series uniquely empowers millions of young children to listen better to help stay safe, to others, their heart, feelings, body and the little voice in their head, intuition. Skills used to help them understand the 15 important life lessons presented in multi-media…printed books, animations+ songs+ interactive questions. posters and discussion ideas.
To help be of service to those learning and wiggling at home,
all the Howard B. Wigglebottom animated books, songs and lessons
can now be downloaded FREE on our website.
No one ever gets in trouble, poor grades, fired or divorced for too much listening.
Have a good listening day or a day of your choice.

We Do Listen Foundation
Li
Purchase
Parenting
Animations, Songs and Yes/No Questions can be downloaded for free.
Animations
Songs
Lessons
Posters
Awards
Back