Howard B. Wigglebottom Listens to His Heart
Back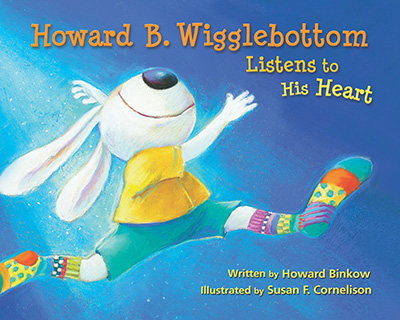 Want to listen better? There's nothing wrong with you… be true to yourself… you're good enough just as you are…follow your heart… do your best…
have fun… do things you love to do, no matter what friends say.
Howard B. Wigglebottom Listens to His Heart
award-winning, educator endorsed

The Howard B. Wigglebottom series uniquely empowers millions of young children to listen better to help stay safe, to others, their heart, feelings, body and the little voice in their head, intuition. Skills used to help them understand the 15 important life lessons presented in multi-media…printed book.. animated book, song and interactive questions, poster, discussion ideas.

To help be of service to those learning and wiggling at home,
all the Howard B. Wigglebottom animated books, songs
and lessons can now be downloaded FREE on our website.

No one ever gets in trouble, poor grades, fired or divorced
for too much listening. Have a good listening day or a day
of your choice. We Do Listen Foundation
Purchase
Parenting
Animations, Songs, and more
Animations, Songs and Yes/No Questions can be downloaded for free.
Animations
Songs
Lessons
Suggestions for Lessons and Reflections
View File
Posters
Awards
Back